Explore Fernie's creative side on a self-guided art tour of public works.
Fernie Art Walk Tour Map
A self-guided tour of Historic Downtown Fernie's artisan galleries and locations.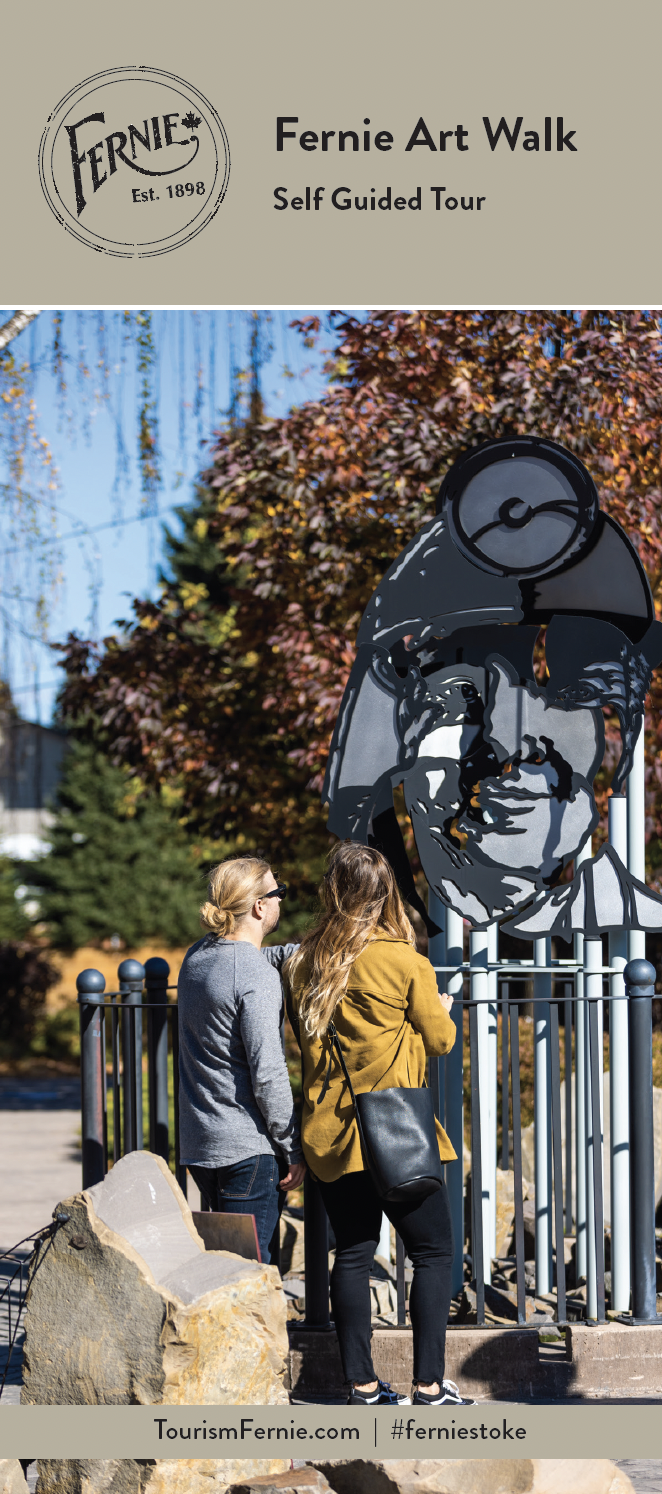 Click on the image above to access the online version, or click here for the PDF - Fernie Art Walk.
DOWNTOWN GALLERIES, STUDIOS & COMMISSIONED ARTWORK
The Arts Station, A Hardy Town Sculpture & Grow with the Flow Mural

601 1st Ave.
Programming, workshops, gallery shows, studio time, concerts & shows . Hours vary. Monthly exhibits in the Foyer Gallery. Sculpture & Mural always accessible off Station Square. Host of the popular Wednesday Socials Downtown Concert Series every summer.

hsquared gallery

598 2nd Ave.
Paintings by resident artist & owner Tara Higgins, plus pottery, jewellery, textiles and paintings and photography by regional artists.

Fernie Arts Co-op

572 2nd Ave.
Open most days. Gallery space featuring the work of over 40 artists from paintings & drawings to sculpture & soap.

Studio 562

562 2nd Ave.
Open limited hours. Fine Art by Leanne Stothert & guest artists.

Elevation Gallery

532b 2nd Ave.
Open Thursday - Sunday. Paintings and fine art from around the region.

Fernie Museum

491 2nd Ave.
Open daily 11am - 4pm. Permanent & rotating museum & art exhibits.

Eye of the Needle Gallery & Studio & Blue Fern Sculpture

260 5th St.
Limited Hours. Felt artist in residence. Artisan glass, metal, and fibre art plus jewellery & candles.

The Miners Walk, front lawn of City Hall

501 3rd Ave.
Outdoor. Interpretive exhibit with Fernie Forge sculptures and 'Face of the Miner' by Jeff de Boer.

All Kinds of Beauty Mural,

Corner of 2nd Ave & 7th St.
Outdoor. A large scale mural by Michael Hepher celebrating the hopes, dreams, and aspirations of Fernie.
THE FERNIE BANNER PROJECT
Since 2005, Up to 40 works of art have been selected annually and turned into beautiful art banners. These banners are hung from the light posts along 2nd Avenue in Historic Downtown Fernie, and when the new banners arrive each year the ones on 2nd Avenue are moved to the highway for a second year.

The banners provide a colourful and interesting welcome to Fernie, highlighting the diverse local arts & culture scene and welcoming visitors to explore and see our spectacular surroundings through someone else's eyes. Featured works include paintings, drawings and mixed media art from professional & amateur artists of all ages, plus photography, glasswork, pottery, quilting, sculpture, fibre art, metalwork, installations and more.
OUT OF THE BOX DUMPSTER PROJECT
Since 2014 the 'Out of the Box' Dumpster Art Project has endeavoured to bring art to the public dumpsters in Fernie, ideal canvases for large-scale artwork. A weekend of dumpster painting is now held annually to create new has beautiful works of art distributed around Fernie where once ugly dumpsters stood. Art Dumpsters can be found throughout town.
OTHER ART & ARTISANS
'Wolf' by Liam Monahan & the Monster Truck by Milarkey - behind The Royal, 501 1st Ave.
Aiden Lindsay murals in the laneway behind Elks Hall (1st Ave) and on the side of The Castle on First (1st Ave) - A colourful abstract landscape, and wings to take a selfie with.
The Fernie Cenotaph at the Fernie Courthouse, 401 4th Ave
Outdoor. Visit Fernie's tribute to our fallen heroes. Read more in the Edwardian Fernie Blog.
The House behind the Raging Elk Adventure Lodge, 891 6th Ave. Completely painted by local artist Troy Cook - peek through the hedge to see this amazing installation-style art piece.
Fernie Mountain Market, Rotary Park. Sundays in July, August & September. Craft stalls & local produce.
Chainsaw Carver - Mike Penny has a working studio on Hwy 3 on the west side of town (1439 McDonald Ave/Hwy 3). Open most days and by appointment.
Sarah Pike Pottery - Home studio located on McDonald Avenue. Call 250-430-7937 for an appointment.
Kathy Stead - Home studio located at on Ridgemont Drive. Call 250-423-4979 for an appointment.
Element Jewelry Co - Home studio located on Anderson Road. Call 250-430-0070 for an appointment.
Find more art for sale or to enjoy when you visit, on the walls of Big Bang Bagels, Mugshots, Freshies, Polar Peek Books & Treasures, Lunchbox, TD Canada Trust, Coal Town Goods, Ghostrider Trading Company, The Green Petal & Stemhouse Floral Studio.