BC open to all BC travellers June 15th and to all Canadian travellers July 1st. USA-Canada border reopening plan in progress
Book now for summer. Fernie is open for a safe and welcoming summer travel season. Businesses are open and indoor dining is allowed again with safety plans in place. Small indoor and outdoor gatherings are currently allowed and will expand June 15th and July 1st.
More Details:
The BC government released its 4 Step Restart Plan on May 25th. Fernie is now able to welcome visitors from BC's Interior & Northern Health regions (indicated in yellow on below map image), a travel advisory is still in place for beyond these areas of BC and outside of BC. The remainder of BC can begin travel within the province June 15th. Our neighbouring provinces to the east can travel here starting July 1st. The US border is currently closed until June 21st to non-essential travel, however a reopening plan is in the works with the expectation that those fully vaccinated will be able to cross the US-Canada border starting sometime in July. More about travel to Canada.
Masks are still mandatory for indoor public spaces and there are gathering orders and restrictions still in place, review the 4 Stage Reopening Plan for details.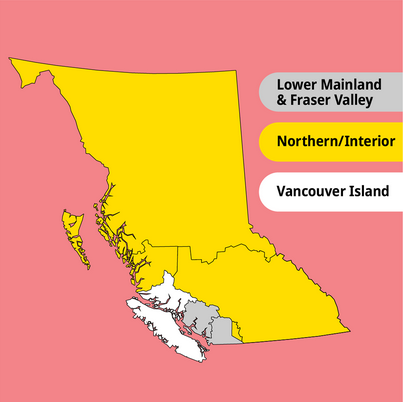 For anyone currently visiting Fernie or planning on visiting during the travel advisory please read our Tips for Visiting During COVID-19

In the Elk Valley, within which Fernie lies, there are 2 active case as of June 5th, down from 11. Additional details via BC CDC and Interior Health media releases.
Are you a resident or property owner in Fernie? Visit FernieStrong.com
View BC's immunization plan and status.
The Canada-USA border is closed to all non-essential travel until at least June 21st. Canadian and US officials are discussing reopening plans. Current restrictions and requirements on International Travel by the Canadian Government. International/Overseas visitation for leisure travel purposes is still not permitted at this time.
Local COVID Testing
If you are unwell, a COVID -19 test can be booked online at www.interiorhealth.ca and by following the link to "Book a Covid-19 Test". Alternatively, the Test Booking Phone line can be reached by calling 1-877-740-7747. Our testing centre is in Sparwood. We can now test for COVID-19 by a saline gargle test for persons over the age of 4.
To ensure the stop of spreading any cold, flu or viruses, including COVID-19:
Masks are mandatory in public indoor spaces, please bring your own with you due to limited local supplies
Practice social/physical distancing - Stay 6 feet away from those not within your family or travelling unit
Indoor personal gatherings can include 5 others or one other household. Outdoor social gatherings of up to 10 is allowed.
Wash your hands frequently and have hand sanitizer with you at all times (limited local supplies, bring your own please)
Stay home or away from others when not feeling well.
Cover your mouth and nose with your arm when you cough/sneeze
Don't touch your face with unclean hands
Additional Links & Information:
BC's Dr. Bonnie Henry's 8 Key Principles
Salvation Army Fernie - Facebook Page
Regional District of East Kootenay
Local Business Information & Support - Updates from the Fernie Chamber of Commerce
Canadian Government Support for Individuals & Businesses
BC Government Support for Individuals & Businesses
CDC's instructions on making DIY face coverings