National Tourism Week & the Recovery of Tourism in Fernie
FERNIE, BC – Tourism Fernie is joining organizations, communities and provinces to recognize National Tourism Week—May 23-30, 2021. This year, Tourism Week recognizes the resilience of the industry through this unprecedented time while focusing on recovery and encouraging Canadian's to travel within Canada this year to support the recovery.
Why does tourism count? Prior to COVID-19, tourism in Canada was a $105 billion industry, accounted for 2% of Canada's GDP ($43.5 billion) and employed 1.8 million workers (1 in 10 jobs). In 2020, the pandemic caused Canada's accommodation revenues to fall an estimated 61%. In BC, 2019 was the strongest year for tourism generating $22.3 billion in revenues and contributing more to GDP than any other primary resource industry in BC. In 2020, BC's accommodation revenues fell an estimated 55% compared to 2019.
In 2019, Fernie also had its busiest tourism year with accommodation revenues up 18% over 2018. Fernie welcomed over 400,000 visitors that spent an estimated $130 million into the local economy. Visitor surveys indicated that over 85% of tourists to Fernie were from outside of BC with a majority from Alberta, the Prairie provinces and Ontario, followed by USA, UK and Australia.
The COVID-19 pandemic hit global tourism the hardest of any other industry as travel came to a standstill. 2020 had started strong for all destinations including Fernie, however, the economic impacts of the pandemic since mid-March 2020 have been severe and still are today. The severity has not been all equal though and Fernie did weather the storm better than most in 2020 (see figure enclosed).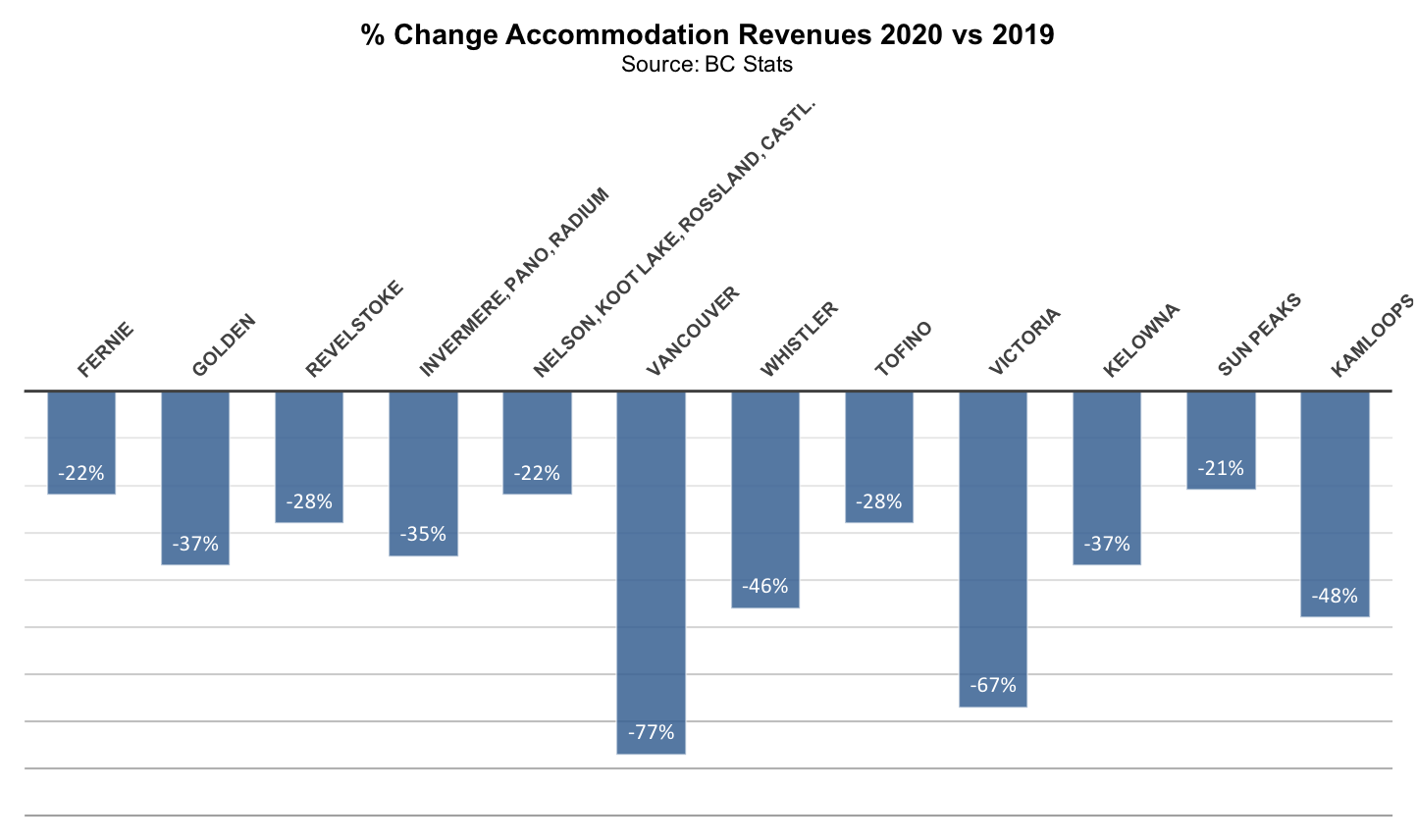 Commercial accommodation revenues are a key indicator of tourism's economic health within an area. In 2020, Fernie's accommodation revenues were 22% lower than 2019, much better than the forecasted 30%-50% decrease initially expected. Why did Fernie do better than others? Multiple reasons that include being a destination that primarily attracts regional drive markets vs international, our proximity to Alberta and the prairies, Fernie's wide-open spaces, a small population and ample outdoor activities, having a strong brand and relationship with our markets, and continuing to see strong corporate/essential travel business.
"Fernie may have fared better, but much of our community and local businesses still suffered greatly and continue to," exclaimed Jikke Gyorki, Executive Officer for Tourism Fernie. "Provincial and federal grants and support programs have helped many to a certain degree. Initiatives to support local businesses have also helped but nothing compares to reopening travel, full business operations and borders."
The recovery of tourism in Fernie will begin to happen this summer with regional travel restrictions finally easing, while international and long-haul travel is expected to start rebounding late summer, fall and into winter season. Fernie is expected to have a busy summer and fall season given the pent-up demand in our regional travel markets. International travel will take longer to rebound due to various factors such as a country's COVID-19 case and vaccination situation, as well as the speed at which travel, and transportation will be encouraged and available. It is forecasted that 2021 will be a bit better than 2020 but not to 2019 levels, and that it will take to 2022-2023 for Fernie to return to 2019 levels. Sustainability will also be more than a buzzword as people and destinations consider how travel can increase its positive impacts and minimise negative impacts on host communities.
As Fernie continues to prepare for a return to tourism this summer and a clearer path forward with restart plan announcements this week by the BC government, Tourism Fernie has been inspiring its regional markets with the amazing experiences available this summer while encouraging trip planning and booking. Once travel restrictions are official removed Tourism Fernie will be actively promoting that visitors are welcome.


TourismCounts.ca FernieStrong.com TourismFernie.com
#TourismCounts #BCTourismStrong #FernieStrong #BCTourismCounts
- 30 -
For more information contact Jikke Gyorki, Tourism Fernie Ph: 250-423-2037 Ext 2 or by email at jikke-at-tourismfernie.com