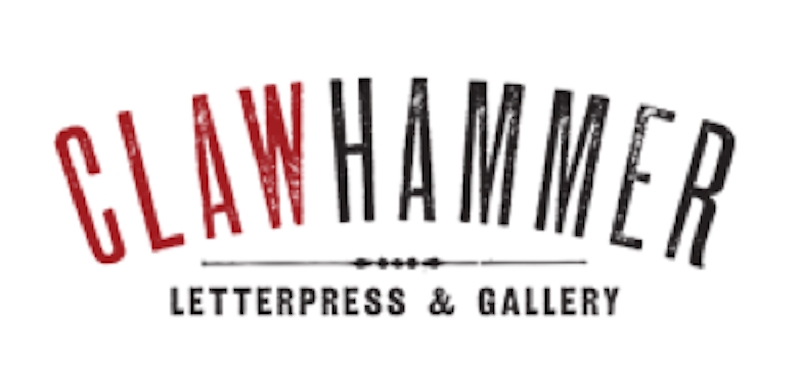 Located in the heart of historic downtown Fernie, The Clawhammer Letterpress & Gallery features a working letterpress studio and fine art gallery.
*NB: As of July 25th, the address for Clawhammer Press is the same, at 441C 2nd Ave, however the Gallery has now moved to the back of the space, behind the Mattress Store. Access is available through the mattress store, or via the laneway behind the store off the IGS parking lot/across from the Library Garden.
Clawhammer Press is the only Letterpress shop in Western Canada that operates in full view of the public. During the week, the print shop is closed to the public to allow for the print master to focus on producing the work that Clawhammer Press has become known for.
Visitors and questions are welcome on Fridays and Saturdays, between 12 noon - 4pm.
The print shop features several traditional print presses:
1916 Chandler & Price 18 x 12 inch 'New Style' Platen press
10 x 15 Chander & Price New Style on loan from Salmonberry press
Adana 8 x 5-inch tabletop press nicknamed 'the laptop'
Vandercook SP-20 Proof Press providing the option of print areas up to 20" x 26"
The print shop also houses over 150 drawers of original and new wood & metal type, including many rare and discontinued typefaces
The gallery specializes in fine art typographical posters and paper products including business cards, coasters, stationery and more. Mike Hepher, the print master, is also a fine art painter and prepares many of his printed artworks from hand-carved wood and lino blocks.
A large gallery space displays Mike's work available for purchase and viewing. During the week, the space is a closed working art gallery. Clawhammer Press artwork is periodically available to purchase at other retail spaces in Fernie - inquire for more information.